Your Cruising Sailboat on the Salish Sea
World-Class Skills for a World-Class Yacht on the World's Greatest Cruising Grounds
No matter your background, you can train to the high standards of the Ardenna Flagship Program, then enjoy cruising her on your own or with other graduates throughout the Salish Sea and the Inside Passage.
Ardenna is a coveted Sabre 402 - with quality and maintenance well above the norms of charter and club boats.  Exclusive to Ardenna Flagship Program Graduates, this is your cruising sailboat on the Salish Sea, with increasing permissions as you train through the three levels.  Membership in this "Graduate Program" commuity is based only on your training; there are no initiation fees or dues.  Just pay one flat low daily rate for your cruising days.
Three Levels • Solid Skills • Expanding Horizons
In a culture that favors instant gratification and easy access, the natural world is uncompromizing.  The Salish Sea and the Inside Passage are some of the most challenging cruising grounds in the world.  Skilled cruisers are rewarded by spectacular wilderness and wildlife.
The Ardenna Flagship Program is designed to provide the skill development needed for anyone to meet these challenges and access these experiences safely and with confidence. There is a higher level of cruising joy that comes with real abilities to operate in the highly dynamic geographical, weather, tide and current environment of the Northwest.
Ardenna Flagship Program:
Accomplishing Skilled Cruisers
Level 1: Cruising Sailboat Foundations
Four days of in-depth knowledge &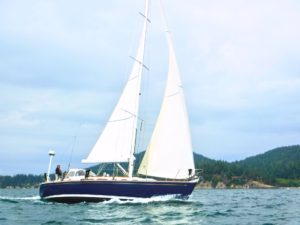 skill development which lay the foundation for operating and sailing the larger cruising sailboat.  Includes:
Understanding & Operating Cruising Sailboat Systems

Maneuvering & Docking the Cruising Sailboat

Sailing the Cruising Sailboat
Level 1 Prerequisites:
Level 1 Permissions:
After completing the Foundations class, you will spent time enjoying & practicing these skills on Ardenna before you embark on Level 2. After this class you can indepedently, and with other Graduates:
Enjoy local day sailing on Ardenna
Practice your docking skills in Cap Sante Marina
Stay overnight on Ardenna, dockside
Further your study & exploration of the boat systems, dockside
Scheduling:
4 full days of immersive learning aboard Ardenna. Plan to stay on the boat each night.
Sign up individually for a pre-scheduled class or contact us to custom schedule a class for your family or group.
Additional instructional days available if needed.
Class/Tuition:
$1,200 per person, all inclusive, for individual sign-ups
3-4 students per class (group of 5 by special arrangement)
2-person classes available by adding the third tuition ($1,800 per student)
Need more instruction & coaching? Additional instruction days available for a group rate of $900/day for up to 4 people.
Level 2: Cruising the Salish Sea Under Sail
Five days of cruising and training in one of the world's most spectacular, yet challenging, cruising grounds.  We will be immersed, island-to-island in the San Juan Islands while you enjoy rigorous training in:

Navigation & piloting through the islands under sail and power

Adapting cruise plans for tides & currents

Docking in an unfamiliar marina

Selecting, evaluating, and anchoring overnight safely in a bay

Picking up and over-nighting on a mooring ball

Deepen your understanding and application of sail theory and sail trim for safe and efficient sailing while cruising

Heavy weather sailing tactics

VHF communications training

Emergency preparedness & procedures

Crew overboard recovery training

Earn the US Sailing Basic Cruising Certification
Level 2 Prerequisites:
Level 2 Completion Permissions:
Cruise Ardenna independently in the San Juan Islands.

At least two Level 2 graduates, and bring up to two guests.

Cruise with up to 6 Shearwater University Graduates from any class.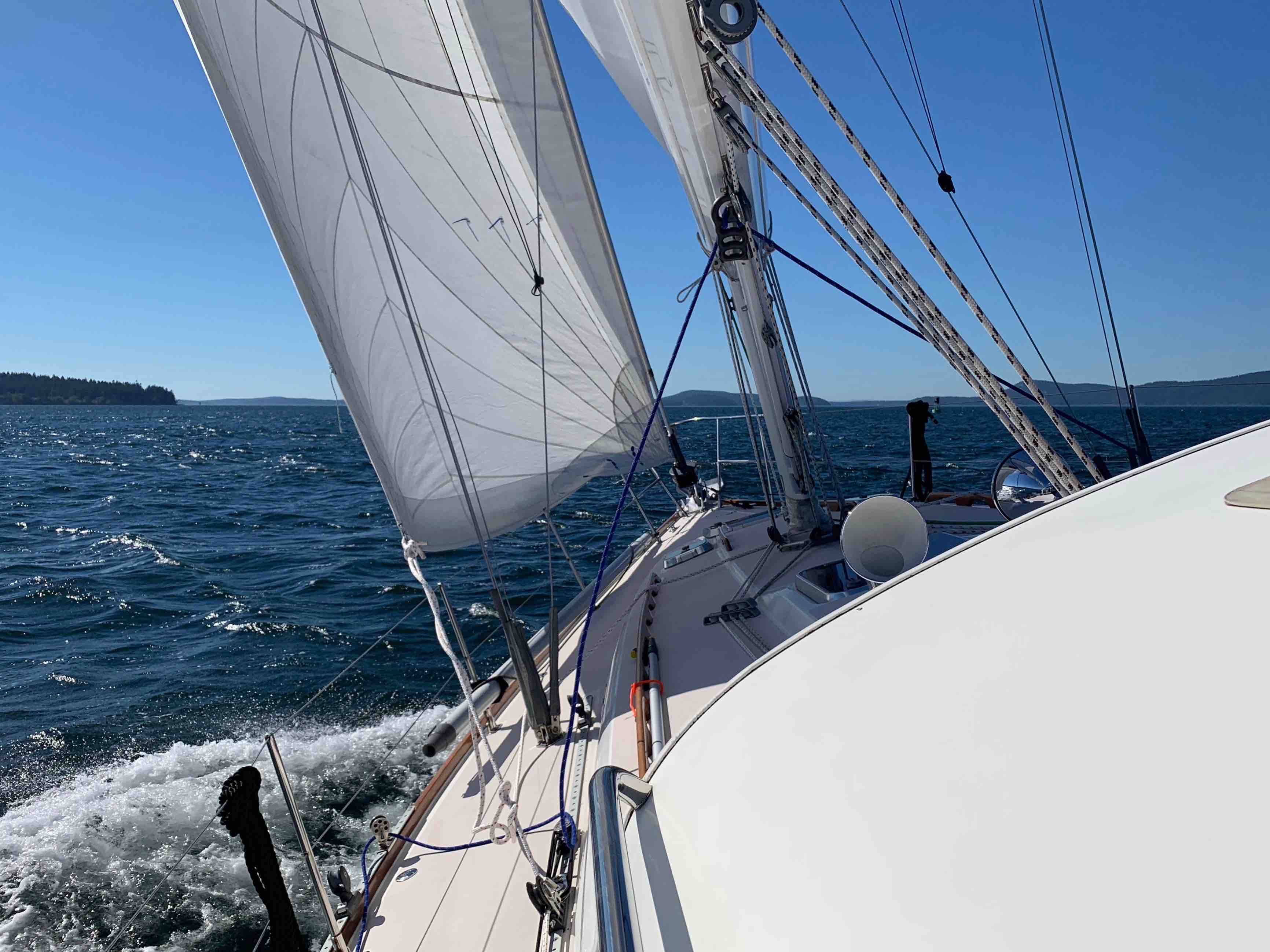 Level 3:  Bareboat Cruising - Salish Sea & Beyond
One continuous week immersed in advanced cruising skill development in the San Juan Islands and the Canadian Gulf Islands.  Once you have completed this final level, your horizons truly expand.
Seven full days of cruising and training on both the US and Canadian Salish Sea.

Apply your Coastal Navigation skills skills to the very real challenges of the Salish Sea.

Advanced sailing, piloting and mooring skills to prepare you for extended cruising in the Salish Sea and the Inside Passage

Earn the internationally recognized US Sailing Bareboat Cruising Certificate, qualifying you for charter cruising throughout the world.
Level 3 Prerequisites:
Ardenna Level 2 Program completion
Cruising experience aboard Ardenna sufficient to prepare you for the advanced level of extended cruising
Coastal Navigation Certificate or equivalent training
Ardenna Flagship Program Graduate Permissions:
Ardenna is now your cruising sailboat for all the horizons of the Salish Sea and the Inside Passage.
Explore the Canadian islands - even Alaska!
At least two Ardenna Flagship Program graduates must be on board, and bring up to two guests
Up to six Shearwater University Graduates from any class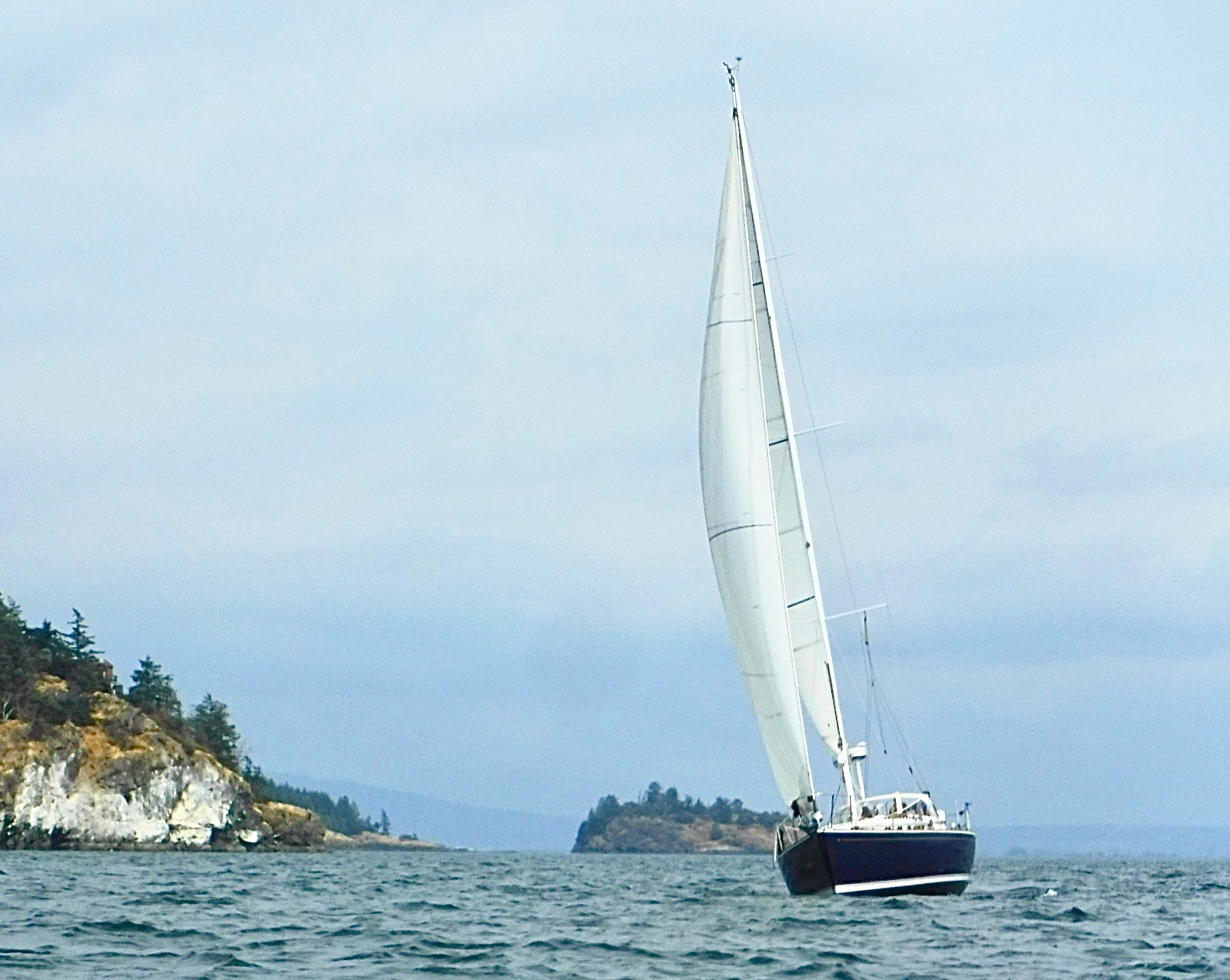 Crossover Options for Seasoned Sailors/Cruisers
Already been sailing and cruising?  Boat owner or long time charterer?  Already done a bunch of training and certifications and practice?  YES - you have a fast track into the Ardenna Flagship Program that builds on your past experience!
Which Crossover Program is right for You?  Call or email to Skills Inventory, which helps you determine whether to register for the Level-2 Crossover or the Level-3 Crossover.
ARDENNA LEVEL-2 CROSSOVER PROGRAM
For those with plenty of prior sailing and cruising training/experience, but who have not yet learned and accomplished the Level-3 advanced cruising skills.
Scheduling:  Custom scheduling arranged on-demand.  Contact us to request a class.
Tuition:  $1,400 per student for four full days of instruction, plus home study and all instructional materials.
Program Description:
Four days of on-water skills challenge/training in the San Juan Islands, supplemented with home study to ensure you meet the certification and program standards.
Demonstrate your maneuvering, docking, sailing, anchoring and navigation skills.
Benefit from skill & knowledge upgrades on a custom, as-needed basis from a professional educator.
Learn the unique systems and rig of Ardenna, your new cruising sailboat on the Salish Sea.
ARDENNA LEVEL-3 CROSSOVER PROGRAM
For those with extensive and advanced sailing, cruising and navigation skills.  Take this opportunity to refresh, exchange, and upgrade your skills for the Salish Sea and the Inside Passage.  Then enjoy cruising Ardenna as your own and with our cruising community.
Scheduling:  Custom scheduling on an as-needed basis.  For your group of 2-4, or join others to make class.
Tuition:  $2,450 per person for seven full days of cruising instruction, plus home study to refresh and upgrade your skills for success in this intensive.
Program Description:
Seven full days at sea on Ardenna.
This class crosses the border for training in the Canadian Islands.
Demonstrate, challenge and upgrade your skills in a supportive environment.
Application of advanced navigation, piloting, anchoring and long-range cruising skills.
Additional Instructional Days
For any of the skills you need more help on, outside of the scheduled class days, just add one or more days.
This is a group rate, inclusive for up to 4 students on the boat.