Learning to Sail at Shearwater University
At Shearwater University, most students come with the goal of cruising the Salish Sea and beyond.  The San Juan Islands, Puget Sound, and Inside Passage are simply among the most spectacular cruising grounds in the the world.
The spectacular Salish Sea is also one of the most challenging cruising grounds in the world, and our training takes that into consideration.  Classes are thorough, and taught by a captain with over 45 years of experience cruising these waters.  Your captain is also a professional educator.  This means she is an expert at adapting learning content, teaching strategies, and pace, to adapt to all types of learners.  In other words, "no mariner left behind" 
With cruising as the goal, our students learn to sail on a cruising sailboat.  The Nancy Lee is a Pearson 323.  A legendary, US design and build, the Nancy Lee is an ideal cruising sailboat to learn on.
Internationally Recognized Certification
Sailing Essentials results in the US Sailing Basic Keelboat Certification. This allows you to rent day sailing boats anywhere.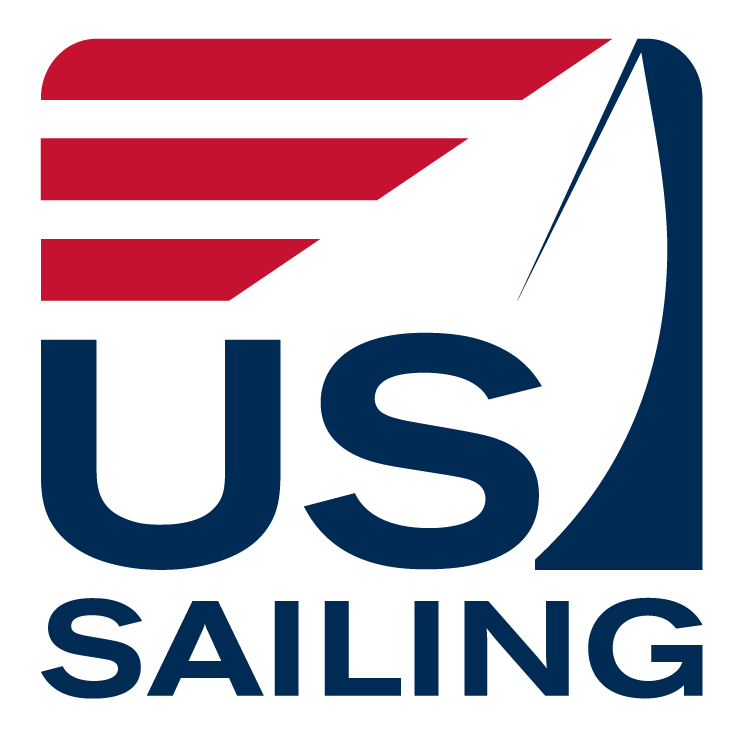 The Nancy Lee Sailing Community:
PLUS as a Graduate of Sailing Essentials you will have unlimited access to day sailing on the Nancy Lee - with your trained sailing buddy and/or other trained Grads.  No initiation fees, monthly or yearly dues - just pay as you go.  And yes, you can bring your guests!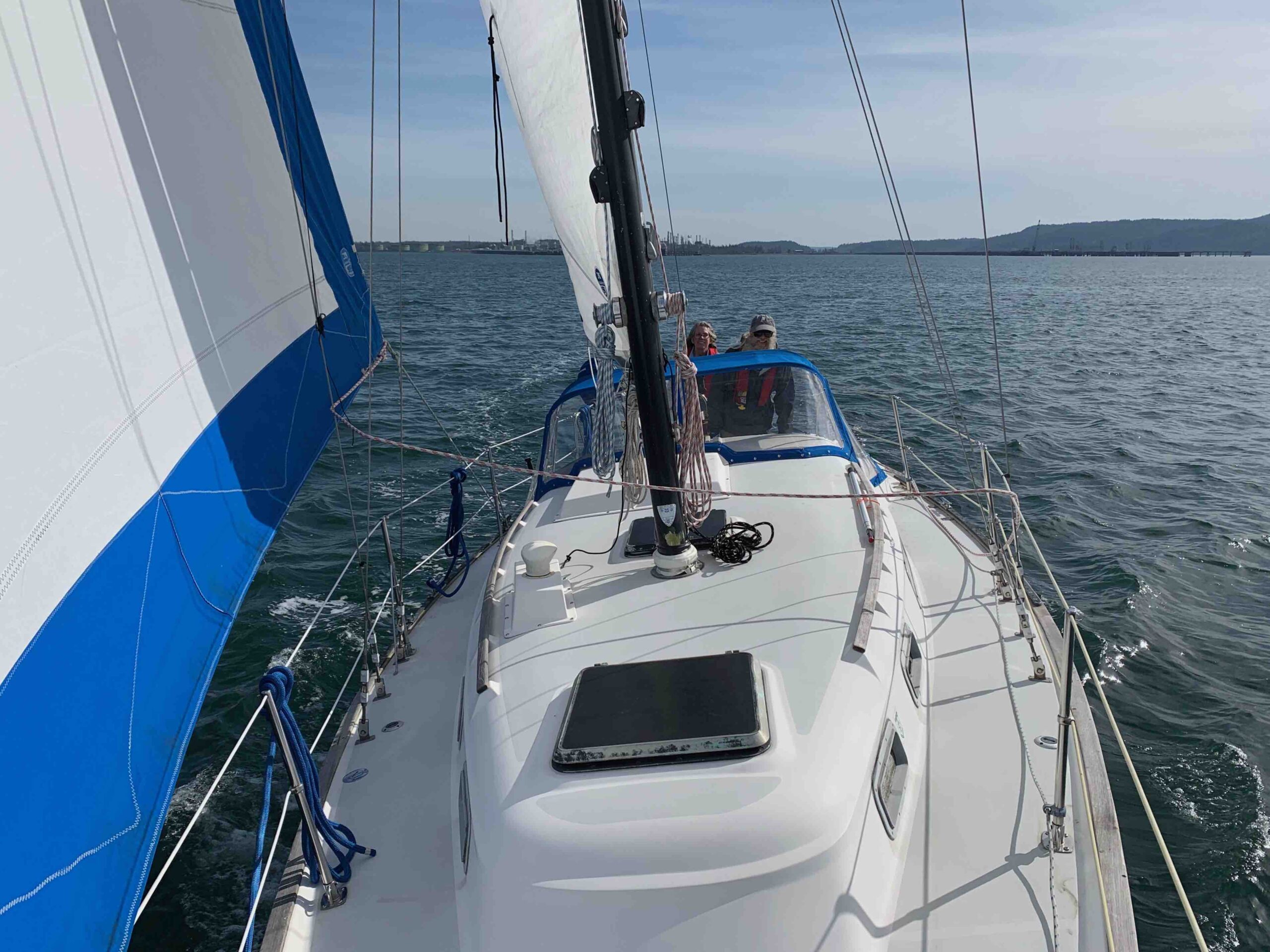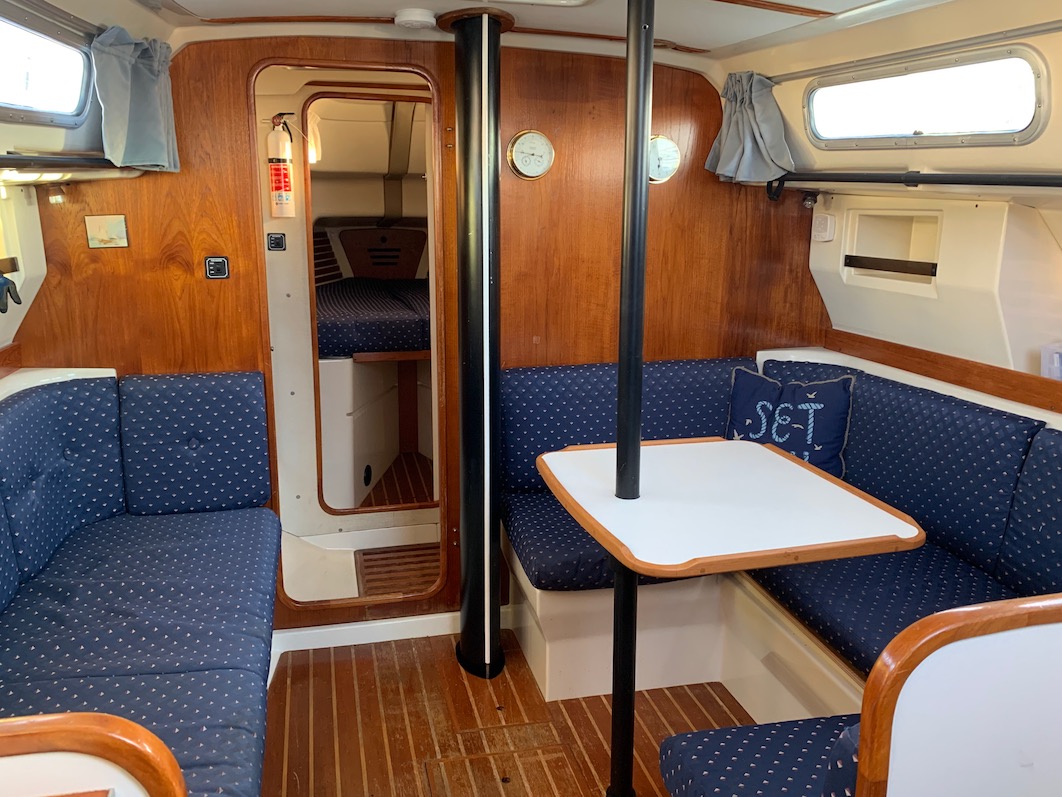 Sailing Essentials Classes
The essential skills for learning to sail on a cruising sailboat are:
Learning how to sail - All the skills from putting the sails up and down, tacking and jibing, points of sail, heaving to and reefing, and more.  These are the skills essential to sailing any boat of any size.
Learning the systems of the boat - Basic operations, from the inboard diesel engine to the electrical system, galley (kitchen) and head (bathroom) systems.
Learning close quarters maneuvering and docking -  You can't take the boat out unless you can safely leave and return to the slip, and maneuver through the busy marina into open waters for raising your sails.
These essential skills are offered through a 2-class course over two 3-day weekends:
Basic Keelboat: This is the Certification course adapted to the cruising sailboat.  Learn all the core sailing skills, within the context of the larger boat and cruising rig.

Systems, Maneuvering & Docking:

  The real differences between a cruising boat and a day sailor are covered in this class, which gives you a head start on your Basic Cruising curriculum.
Prerequisites:
No Prerequisites for any Sailing Essentials class, and you can take them in any order.
Contact us if you are concerned about physical requirements and your abilities.
This class focuses on sailing skills, and includes the US Sailing Basic Keelboat Certification.  This allows you to rent daysailing boats anywhere, to crew on the Nancy Lee or Ardenna, and to go on to sailboat cruising classes, including the Ardenna Flagship Program.
In combination with the Cruising Sailboat Systems, Maneuvering & Docking class, you will qualify to sail the Nancy Lee independently and as part of the sailing community.
SKILLS INCLUDED:
Raising & lowering the sails

Sailing in orientation to the wind

Points of sail & no-go-zone

Proper sail trim for efficiency

Tacking safely and beating to windward

Controlling heel

Safe downwind sailing and jibing

Heaving too

Reefing the sails

Basic chart reading

Application of navigation rules & navigation aids

Sailing Knots  and their applications

Crew overboard recovery under sail

Introduction to docking principles

Other safety & emergency procedures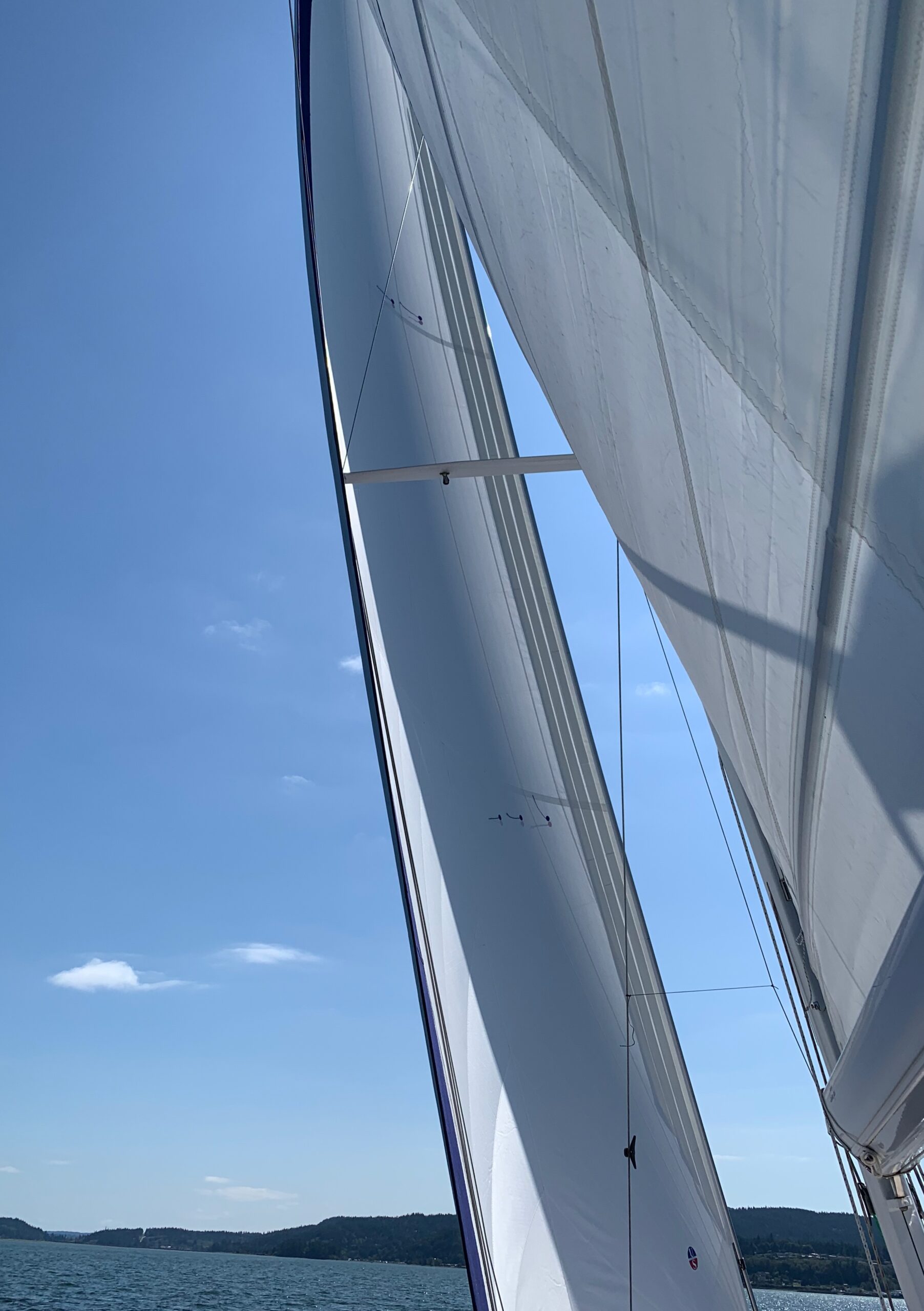 Schedule:
Three full days of sailing

Each day meets 9-5, with breaks

Each day we return to the home slip

Join a pre-scheduled class, or...
Call or email to custom schedule your own class
Tuition:
For Your Covid-Safe Pod
2-3 Person Group = $1,800 for the class

4 Person Group = $2,400 for the class
Individual Class Sign-Ups: $600 per student.
Registration for Individuals
Train with others and make new sailing friends
Join a scheduled class or call for new dates (classes added on-demand).
If you are not Covid-19 vaccinated, call for arrangements.
Custom Scheduling for Couples & Small Groups
Call or email to schedule your own class.
Flat rates for 2-4 students on the boat.
Includes books, materials and certifications.
Learn together and sail together.
Sailing Essentials: Systems, Maneuvering & Docking for the Cruising Sailboat
If your goal is to sail a cruising sailboat, one of the deepest skill sets you need is how to safely maneuver the boat in the tight and often chaotic conditions of a marina, and to get the boat in and out of a slip without damaging your boat, your neighbors boat, or your crew, under multiple conditions of wind, current, and maneuvering space.
Shearwater University provides a complete and highly effective skill sets for mastering these manifold challenges.
Once you have completed the Basic Keelboat class, along with this class, you will automatically be included in the Nancy Lee Sailing Community, and qualified to day sail this or any other smaller cruising sailboat independently.
Skills Included:
Close-quarters maneuvering principles and practices for getting the boat to do what you need it to do in tight spaces under power, and under varying conditions.
Line-handling techniques for wrangling the boat safely within the slip.
Advanced springline methods that allow you to launch and land the boat safely and easily with just 2 people and one line.
Approaches for getting in and out of the slip without damage or embarrassment.
Understanding the functions and operations of cruising sailboat systems, including the engine, electrical system, galley systems and head systems.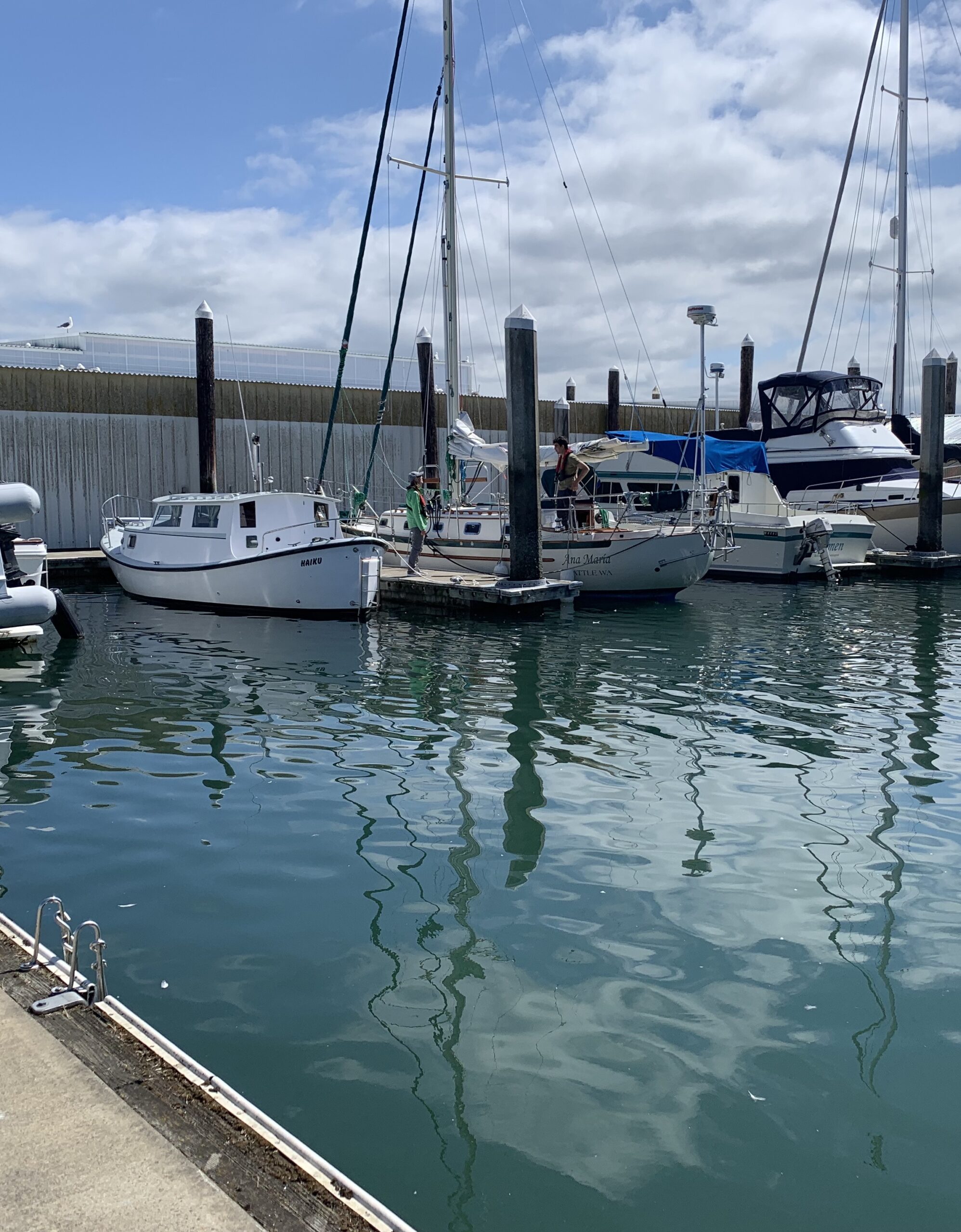 Schedule:
Over 3 full days we will integrate learning and practice for cruising sailboat systems, maneuvering the boat in close quarters, and docking the boat.
Class meets 9-5 each day, with breaks
Join a pre-scheduled class, or...
Call or email to schedule a class for your 2-4 person group
Tuition:
For your Covid-Safe Pod:
2-3 Person Group = $1,500 for the class
4 Person Group = $2,000 for the class
Individual Class Sign-Ups:  $500 per student
Your Instructor
Phyllis Woolwine, AKA Captain Wooly, is a US Coast Guard licensed Captain, US Sailing Certified Keelboat Instructor, and National Board Certified Teacher.  She has spent her life on the sea, sailing all parts of the Inside Passage.  Captain Wooly is also a career professional educator. For over 30 years - both on and off the water - she has taught all types and ages of learners, in the classroom, on the sea, in the wilderness, in universities, high schools and private settings.